Korean Risotto
By Max Li | Published: June 26, 2016
I have recently been learning how to cook Korean food. It's quite tasty and many of the most famous dishes aren't too difficult to make. While I do enjoy eating Korean food, cheese is the backbone of my eating career. So imagine how excited I was when I learned about Korean Rice and Cheese. I didn't have all the ingredients on hand for that particular version (nor am I a fan of SPAM), and I knew I easily could adjust it to my own tastes. The result is something bearing quite a resemblance to risotto, but with a decidedly Korean flavour (and a euphoric amount of cheese).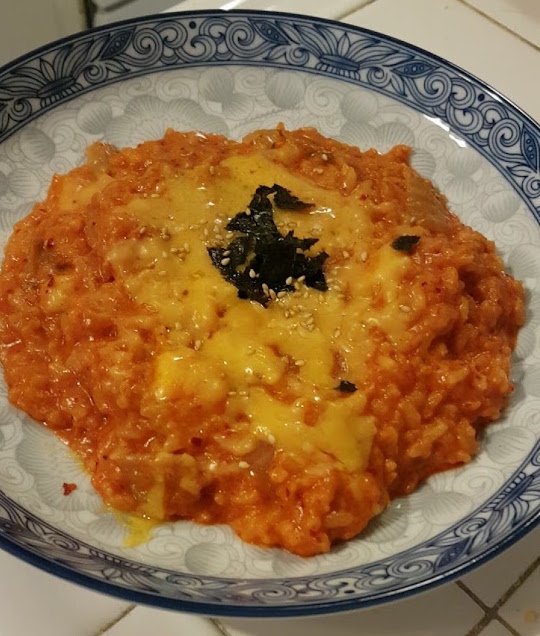 One difficulty with this recipe is that most of the key ingredients (i.e. the kimchi, the gochujang, and the cheese) can drastically differ in flavour depending on the brand and likely the particular batch. This makes specifying the amount of each quite difficult, and makes it extremely important to constantly taste and adjust the amounts to your own liking.
Note: The picture has melted cheddar on top, but I later changed it to mozzarella to tone down the overpowering flavour of such concentrated cheese. Your eyes are not deceiving you.
yield: serves 3-4 as a standalone meal
Ingredients
3 cups white rice, cooked, dry
1 cup kimchi, chopped into bite-sized pieces
3 tablespoons gochujang
5 large shiitake mushrooms, sliced (preferably fresh, but soaked dry ones work too)
1/2 cup milk
1/4 cup mozzarella cheese, grated1
1/4 cup parmesan cheese, grated1
1/4 cup medium cheddar cheese, grated1
1 1/2 tbsp sesame oil
1 sheet nori (seaweed)
toasted sesame seeds
1 - if you just want to use one cheese, you can use just ~3/4 cup mozzarella; I wouldn't use more than the stated amount of cheddar or parmesan for saltiness reasons though
Directions
Coat a large wok (or pan) with oil and heat over medium heat. Add the kimchi and let it soften for a minute. Add the rice and gochujang and mix well. (At this point, you basically have kimchi fried rice.) Add the mushrooms and cook for another minute.

Add the milk, parmesan, cheddar and half of the mozzarella cheese. Stir periodically until the cheese has melted. Mix in the sesame oil. (At this point, this dish is done, and the remainder is optional garnish.) It is important to taste the dish now and add more gochujang, cheese, or salt as you see fit.

For each serving, transfer to a plate, sprinkle some of the remaining mozzarella cheese. Using either a broiler or a microwave, melt the cheese. Sprinkle some crushed nori and some sesame seeds for garnish.